Back
Wednesday, June 28, 2023 at 1:05 PM - For Immediate Release
Upcoming SMF Construction: Plan Ahead for Improved Travel Experience
Exciting developments are underway as part of the Elkhorn Boulevard Extension Project at Sacramento International Airport (SMF). Starting July 9 and lasting until July 24, we will be implementing significant enhancements to ensure smoother travel experiences for all.
To facilitate these improvements, the installation of roundabouts is scheduled at the following intersections: Crossfield Drive and Lindbergh, as well as Crossfield Drive and AMPM road. We want to inform you in advance that these upgrades may cause temporary delays on the roads surrounding the airport.
The primary area affected by this construction will be Crossfield Drive. As your convenience is our priority, we kindly request that you allocate ample time when arriving at or departing from SMF. Moreover, we urge you to exercise caution and remain alert while driving through the designated work zones. Please adhere to the speed limits and exercise patience during this construction period.
In order to assist you throughout your journey, we will be implementing clear and comprehensive signage to guide you through the construction areas. We understand that this might result in some inconvenience, but we assure you that the end result will be well worth the temporary disruption.
Once the construction is complete, you can look forward to an enhanced travel experience like never before. These improvements will greatly contribute to smoother traffic flow, providing you with an elevated level of convenience and efficiency.
We appreciate your understanding and cooperation during this transformative phase. Thank you for your patience and for choosing SMF as your preferred travel hub. We remain committed to ensuring your utmost comfort and satisfaction.
PHASE ONE - JULY 9-16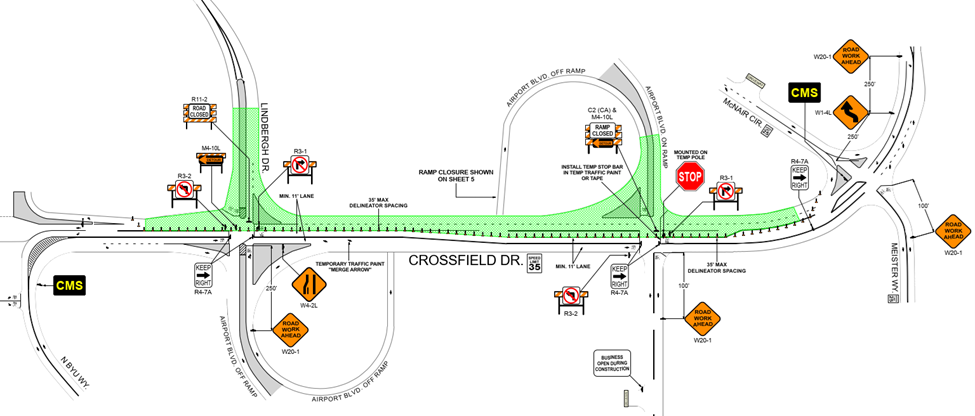 Phase 1 involves the construction of half the roundabout on the northside of Crossfield Drive with closures of Lindbergh Dr. and Airport Blvd Off/On Ramp.
During the Phase 1 construction of the roundabouts, this will push traffic, including truck traffic in front of Terminal A.
Maps
PHASE TWO - JULY 16- 24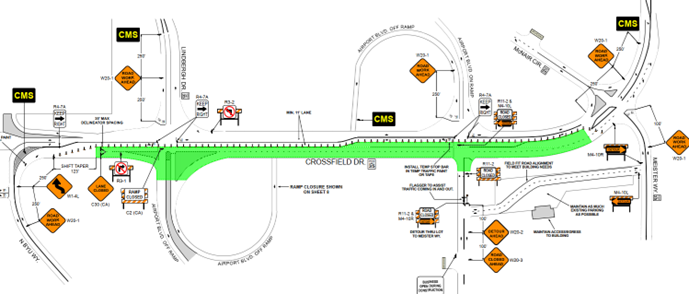 Phase 2 involves the construction of half the roundabout on the southside of Crossfield Drive with closures of Airport Blvd. Off Ramp and the AMPM Road.
Traffic that exits AMPM will be rerouted through SITOA and onto Meister Way.
Maps
The Sacramento County Department of Airports is responsible for planning, developing, operating and maintaining the county's four airports: Sacramento International Airport, Executive Airport, Mather Airport and Franklin Field. Sacramento International Airport offers more than 155 daily nonstop flights on 12 domestic and international carriers to 36 destinations. The regional economic impact of the Sacramento County Department of Airports is more than $4 billion annually. For more information, visit sacramento.aero.