Back
Wednesday, September 10, 2014 at 9:19 AM - For Immediate Release
Try It, You'll Like It: Walking Path Adds Value to Daily Parking Lot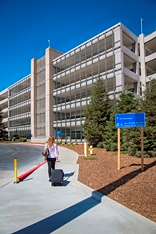 The best deal in airport parking just got better: Sacramento International Airport has created a designated walking path to help customers find their way from the Daily Lot to both airport terminals.
The Daily Lot is located just south and to the left of the parking garage on Airport Boulevard. Like the Economy Lot, it is ideal for long-term parking. Unlike the Economy Lot, it doesn't fill to capacity during peak travel times and is just minutes away from both terminals, either by walking or taking a shuttle.
Economy Lot shuttles arrive every 20 minutes, while Daily Lot shuttles arrive every 8 to 10 minutes.
The 1,100 square foot walking path represents an effort to improve customer service, as some customers prefer walking to taking the shuttle from the daily lot. At the same time, it's a great value for airport parking that is not well-known. The lot is seldom more than half-full.
The Daily Lot costs $12 a day, two dollars more than the Economy Lot. The Daily Lot is the only parking option at Sacramento International Airport that has decreased in price in recent years.
To get to the Daily Lot from the Sacramento International Airport entrance, follow Airport Boulevard and follow the roadway signs for daily parking. When the roadway splits, go to the right, as if you were driving to Terminal A, and look for the signs.
You can see a map of airport parking options here.
The Sacramento County Department of Airport is responsible for planning, developing, operating and maintaining the county's four airports: Sacramento International Airport, Executive Airport, Mather Airport and Franklin Field. Sacramento International Airport offers more than 150 daily nonstop flights on 10 domestic and international carriers to 30 cities. The regional economic impact of the Sacramento County airport system is more than $4 billion annually. For more information, visit sacramento.aero.